There are plenty of ways to beautifully wrap a gift with recycled or natural and biodegradable materials. Here are some ideas for materials you can most likely find around your house, or purchase at a craft store.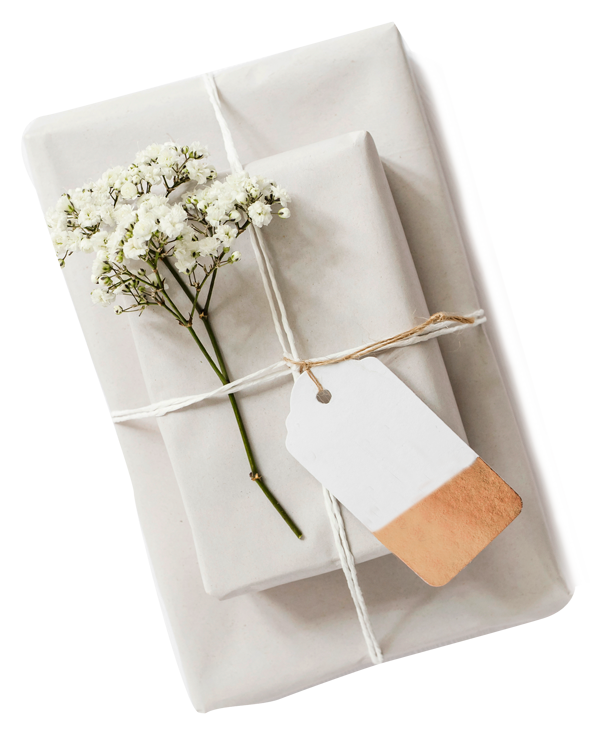 Old paper grocery bags

Recycled paper

Newspapers

Thin Kraft paper

Kraft boxes

Old maps

Scraps / old fabrics

Cloth napkins

Old clothes

Vintage scarfs

Pretty dishcloths

Mason jars
Hemp, jute or linen twine

Cotton strings

Strips of scrap fabric

Metal wires

Paper tape (great alternative to wasteful and unfortunately very common sticky plastic tape)
Real plants like leafy branches, twigs, pinecones, mountain ash/rowan berries, winter berries

Sprigs of rosemary or thyme

Dried slices of fruit like orange, lemon or lime

Cinnamon sticks

Fabric scraps

Vintage jewelry
Cut the thicker craft paper (from the craft store or from the kraft box you have at home) into any shape you want. It can be either simple rectangular, heart, oval or a Christmas tree shape.

Make a little hole in the top of the tag

Tie it to a present with hemp, jute or linen twine.
Old paper grocery bags

Recycled paper

Newspapers

Thin Kraft paper

Kraft boxes

Old maps

Scraps / old fabrics

Cloth napkins

Old clothes

Vintage scarfs

Pretty dishcloths

Mason jars